Regular price
Sale price
$16.00
Unit price
per
Sale
Sold out
Sea buckthorn soap
This soap is a genuine artisan soap, made in the old artisanal way in Finland.
The soap is extra nurturing and re-greasing and does not dry out skin or hair.
It is perfect for body soap, but can also be used as
-Hair soap
-Handsoap
-Soap for cleaning makeup brushes and sponges
The sea buckthorn seed oil gives the soap a golden color.
ee from fragrances, but the soap is adorned with organically grown dried lavender flowers that give the soap a mild fragrance.
Packed in a practical aluminum box that can be used as a soap dish.
approx. 55g
Share
View full details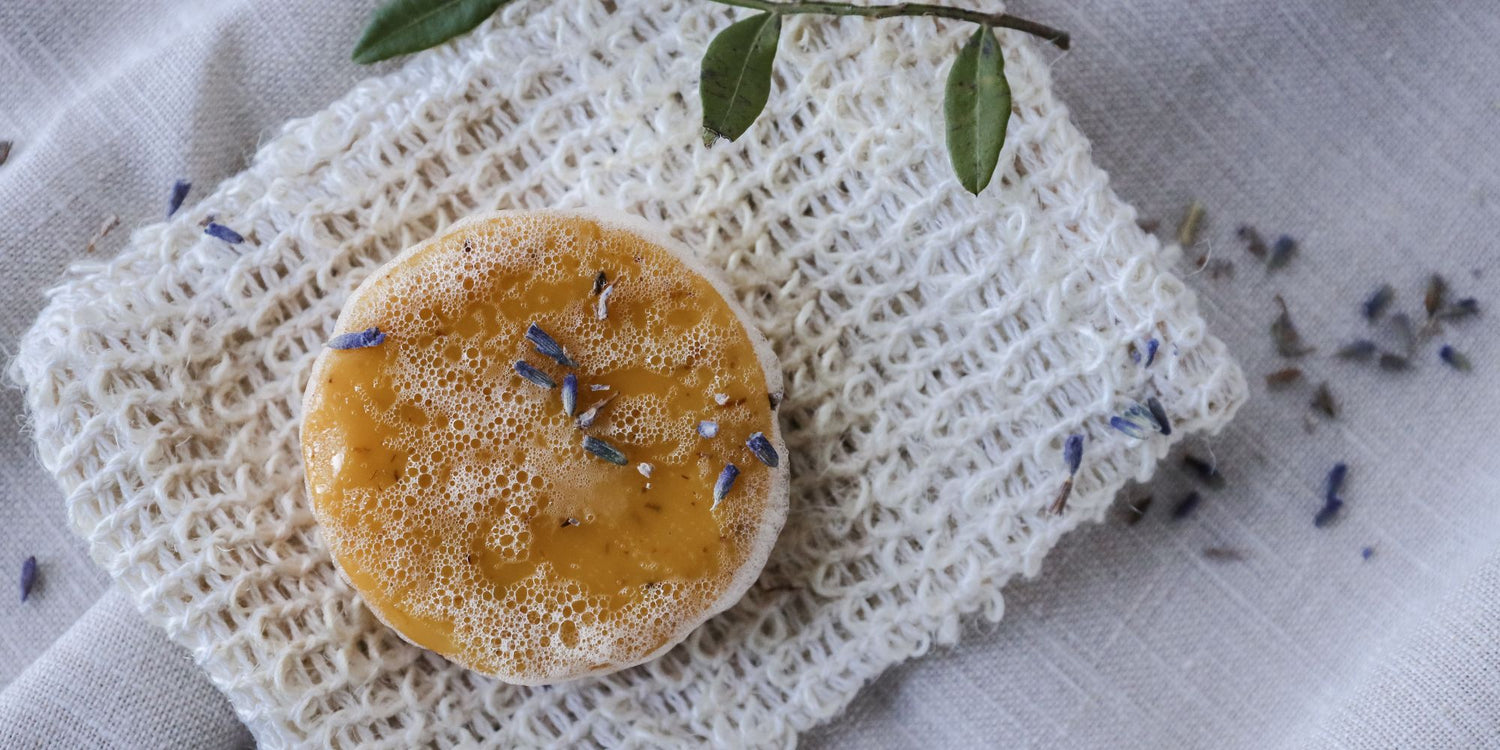 Use
Using an organic solid soap is an easy way to reduce the use of plastic packaging and promote a more sustainable lifestyle. Here are some steps to use an organic solid soap the right way:

1. Moisturize your hands: Start by rinsing your hands in warm water to properly moisturize them. This helps create a lovely lather with the soap.

2. Rub the soap: Take the organic solid soap and rub it between your hands to create a lather. Make sure to cover the entire surface of your hands.

3. Wash your hands: Massage the foaming soap over your hands and fingers for at least 20-30 seconds. Make sure the soap reaches all areas, including fingers, thumbs and wrists. This helps remove dirt, bacteria and unwanted odors.

4. Rinse off: Thoroughly rinse the soap off your hands with warm water. Make sure no soap residue remains on the skin.

5. Dry your hands: Dry your hands with a towel or paper towel. Be sure to get them completely dry to avoid moisture-related problems.

6. Store the soap dry: After use, it is important to store the organic solid soap in a dry place. Our Loofah natural mushroom works well for this purpose. By keeping the soap dry between uses, it will last longer.

By using an organic solid soap, you are not only doing something for the environment, but you can also enjoy the benefits of natural ingredients that are gentle on the skin. Remember to choose a soap that is organic and made using sustainable methods to get the best possible results.
This soap is vegan friendly.
Want to learn more?
Learn more about using a solid soap in skin and hair care.
Read our post about soap here.
Collapsible content
PEARL

INCI: Sodium cocoate* (coconut oil), Sodium brassica napus seed oilate* (rapeseed oil), Sodium hippophae Rhamnoides Seed Oil* (seabuckthorn oil), Glycerine**, Aqua, Lavandula Angustifolia Flower*** (dried lavender flowers),
*Saponified organic certified ingredient
**Formed naturally in the saponification process
***organic dried flowers and oatmeal
All ingredients are vegan & certified organic
Storage

Förvara gärna dina tvål torrt och svalt. Tänk på att efter användning ställa tvålen på tork, till det rekommenderar vi att du köper till en luffakudde. Du hittar dessa i vår webshop. Luffakudden är ett perfekt tvålfat i 100% naturmaterial.
Annars funkar vår praktiska metalldosa som tvålkopp för din tvål om du vill ta med den.