Collapsible content
Our history

I'M Nordic Eco Cosmetics is a well-known organic beauty brand in Ostrobothnia Finland, which was founded with the vision of offering high-quality products that are gentle on both people and nature. The company has an interesting history that stretches back to being created through a loving hobby company (M HandMade) in 2016 in Jakobstad Finland. 

New winds blew at the end of 2021 when the company got a new owner and moved to new production premises in Kronoby.

In 2023, a total change took place, when the company had to present itself with its new name and visual transformation.

Today, I'M Nordic Eco Cosmetics is a woman-owned company run by Paulina Åkerlund.

Through her training in skin and hair care, medical foot care and business economics, she previously worked for 10 years with her own salon (Paulinas Skönhet & Hälsa) founded in 2012. Through her own allergy and hypersensitivity to chemicals, she wants to create a skin care series with innovative thinking!

She knows through her experience what skin and hair need to feel good, her holistic approach and responsible commitment to nature drives her to want to create and provide a skin and hair care series with respect for human health, animals and nature.

Today, our products are sold both online and in physical stores. The company's success is due to their passion for sustainability, their high ingredient quality standards and their constant pursuit of innovation in natural and organic beauty.
Our CONCEPT, today's skin and hair care

I'M Nordic Eco Cosmetics offers more than just skin care - we also strive to promote understanding of a holistic approach to beauty and well-being. By emphasizing the importance of taking care of both internal and external health, we offer a holistic experience for our customers.


The brand believes that beauty and health are connected and that healthy skin is the result of a balanced lifestyle and care for both body and soul. They promote a holistic view of beauty by offering products that focus not only on improving the appearance of the skin, but also on strengthening the health and well-being of the skin in depth.

By using natural and organic ingredients, I'M Nordic Eco Cosmetics strives to minimize the impact on the skin and the environment while providing the best results. Their products are designed to be gentle on the skin by contributing and supporting the preservation of its natural balance. By avoiding harmful chemicals and instead using plant extracts, oils, natural clays, salts and essential oils, they offer a clean and natural approach to skin care.

"In a world where a quarter of the global population suffers from a lack of water, we want to emphasize the importance of water-free skin care that we offer. By choosing water-free skin care products, you can already reduce unnecessary consumption of water by 70% at the time of purchase. Did you know that in products that contain water, only 30% of the content is the active ingredients? We offer you 100% active ingredients in our anhydrous products."

We also want to spread knowledge and understanding of the importance of integrating a holistic view of beauty into one's daily routines. By offering information on ingredients, manufacturing processes and individual skin needs, we help customers make informed decisions and create a personalized skincare routine tailored to their specific needs.

"We have never consumed as much as we do today, yet we have not seen our skin feel better!"

Studies show that there are two types of substances that negatively affect the microflora, preservatives and surfactants.


The founder of I'M Nordic Eco Cosmetics, Paulina herself has gone through many teenage years with problem skin, also developed chemical and fragrance allergies through synthetic skin care.

"I never got a holistic perspective of what the skin is and what the skin does for us when I bought cosmetics as a 15-year-old.

I want to try to be the person I needed when I was a teenager seeking help for my problem skin"

So, I'M Nordic Eco Cosmetics not only offers skin care products, they also offer an understanding of the importance of embracing a holistic view of beauty where health and well-being are central. By offering natural and organic products and spreading knowledge, they help their customers achieve healthy and radiant skin from the inside out.
Our VISION

I'M Nordic Eco Cosmetics strives for a vision where beauty, health and sustainability hold each other's hands. Our vision is to offer organic and natural beauty products that not only do wonders for your skin, but also for our nature.

Today, knowledge is beginning to increase and people are beginning to understand that it matters what you lubricate your skin with and what you flush out through the drains through your cosmetics consumption.

We believe in a holistic view of beauty that encompasses both inner and outer well-being. Our products are carefully formulated with the highest quality natural ingredients to give you effective results without compromising your health or the environment. 

"We have no chemicals in our products, everything we create is given to us by nature, it is a gift that we want to manage well"

By using organic and sustainably produced ingredients, we strive to reduce our impact on nature and promote a more sustainable beauty industry. We place great value on transparency and work to provide our customers with clear information about ingredients and production methods. Today, all our products are made by hand. 


We are proud to be part of the growing movement towards more conscious consumption and sustainable choices. 

Together we strive to create a world where beauty is sustainable, conscious and full of care.

We are grateful that nature gives us what we need!

I'M Nordic Eco Cosmetics - where beauty meets sustainability in a natural way.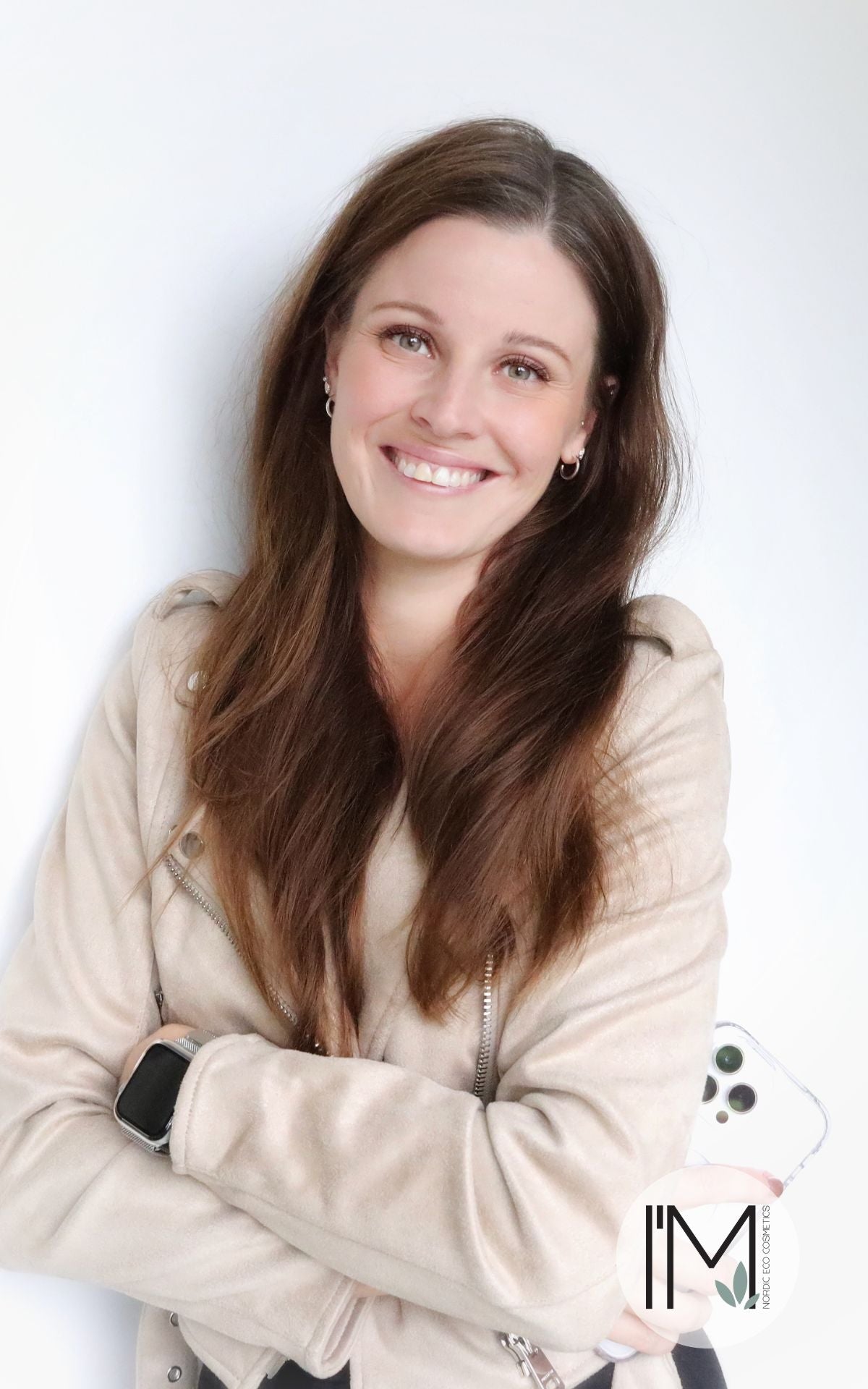 Our products have been awarded the Key Flag mark, which indicates that our products are made in Finland. As a company, one of our missions is to promote employment in Finland
The key flag is a clear and well-known sign of Finnish work and quality. With our choices, we can do good in many ways.
Let customers speak for us