Regular price
Sale price
$23.00
Unit price
per
Sale
Sold out
Our organic Body Butter is the ultimate solution for anyone looking for a body butter that gives a lovely silky feeling. This emollient, rich and nourishing body butter is specially formulated to soothe the skin and give it the extra care it deserves.
Size: 30, 60 & 120ml

Customers with skin problems such as atopic skin, psoriasis and eczema have appreciated this product and have reported great results. This is due to the specially selected ingredients that include shea butter and coconut oil. These ingredients are known for their protective and nurturing properties, giving the skin the support it needs to maintain its natural health.

Our Body Butter is not only effective, it also smells amazing. It has a lovely mild fresh scent of grapefruit and pine that gives you an extra feeling of freshness and energy from 100% organic essential oils.

In conclusion, if you want a body butter that leaves you feeling silky smooth and soothes your skin, our Body Butter is the perfect choice. Give your skin the extra care it deserves with this amazing product.
Share
View full details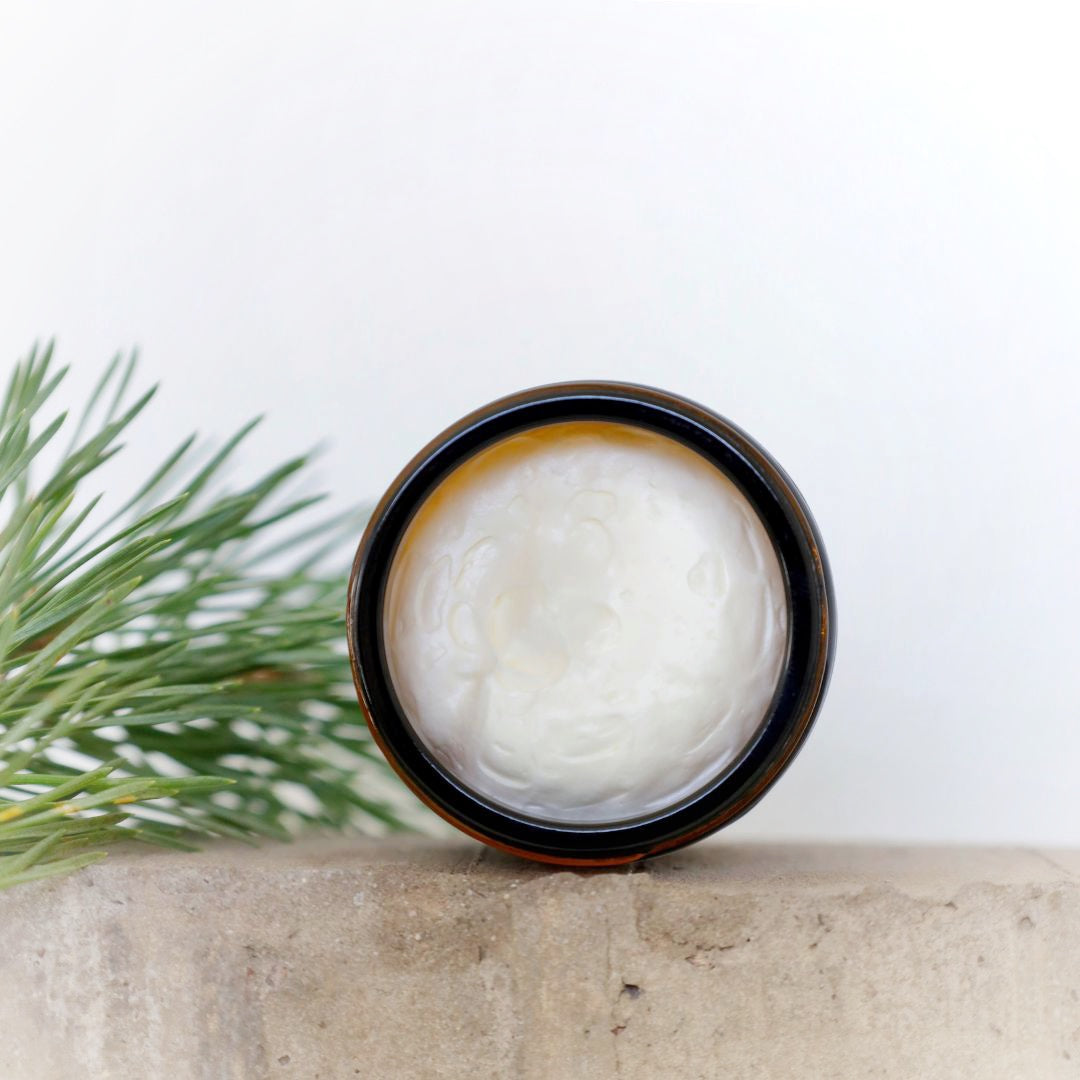 Use
Use on body, hands and feet

- Apply to clean skin, preferably after bathing to encapsulate moisture in the skin. Use a spatula or clean spoon to scoop up the amount you need.
- Massage body butter into skin areas that need care or prevent the skin from possible dehydration.
- Give yourself a moment of relaxation, the fresh scent of pine and grapefruit brings your thoughts to the calmest plastic in the world, where beauty meets nature and you are embraced by its goodness.
- Repeat if necessary.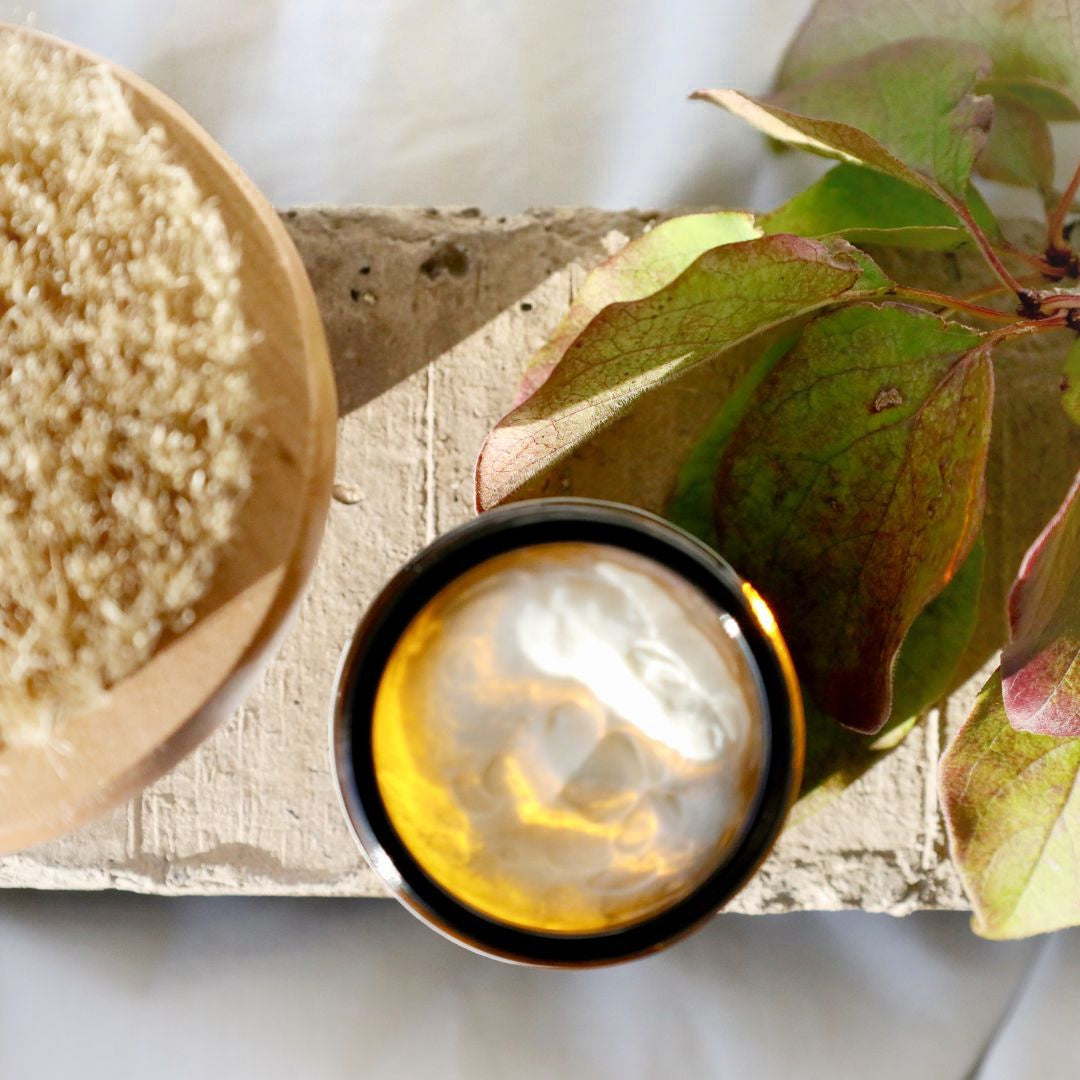 About the product
Give your skin the extra care it deserves. Our body butter contains carefully selected oils and butters to give your skin what it needs.
Shea butter's the greasy surface protects against weather, wind, irritation and retains moisture well. It helps speed up skin healing and is good for dry, cracked, scaly and cracked skin, small wounds, eczema skin and sunburn. We use shea butter which is fragrance free.
Coconut oil (also called coconut fat, coconut oil, coconut fat) has been used for many thousands of years in Asia for its health benefits. No spraying agents or artificial fertilizers are used in the cultivation. In addition to vitamins and minerals, the oil also contains the important fatty acid lauric acid. Lauric acid is converted to monolaurin on the skin and protects against bacteria. This makes coconut oil a very antibacterial oil that stays nice for a very long time. We use an unscented coconut oil.
The almond oil makes the skin soft and supple and relieves skin inflammation and itching in dry skin, eczema or psoriasis. The oil is naturally rich in vitamin E.
As fragrance in the product, organic essential oils are used;
Pine cone oil properties, Circulation-seeking, antifungal, bactericidal, diuretic, antiseptic, deodorizing, expectorant.
Grapefruit oil (bergapten-free), Stimulating, cleansing, bactericidal, invigorating, astringent.
We have also added a little rosemary and natural vitamin E for longer shelf life.
The product is vegan friendly.
Collapsible content
PEARL

INCI: Butyrospermum parkii butter* (Shea butter), Cocosnucifera oil* (Coconut oil), Theobromacacao seed butter* (Cocoa butter), Prunus amygdalus
dulcis oil* (Almond oil), Citrusgrandis peel oil* (Grapefruit oil), Pinussylvestris leaf oil* (Pineoil), Rosemarinusofficinalis leaf extract* (Rosemary leaf extract), Tocopherol (Vitamin E), Limonene**, Linalool**
*organic
**natural component of essential oils

100% Natural
All ingredients except thocopherol is cert. organic

Vegan friendly
Storage

Förvara gärna på en sval plats, under +25°C som är skyddad från direkt solljus.
Denna produkt smälter ner om den utsätts för hög värme.