Regular price
Sale price
$34.00
Unit price
per
Sale
Sold out
Discover our amazing organic body oil that nourishes and brightens your skin with a de-stressing scent of citronella! Our unique blend of high-quality ingredients, including sesame oil, jojoba oil, cocoa butter and beeswax, is easily absorbed and provides long-lasting hydration while leaving skin smooth and supple.  
Size : 100ml
Our body oil is an excellent alternative to traditional lotion after showering and bathing. Apply it to your skin to give it an extra boost of moisture and nourishment. In addition, our body oil can be used as an after-sun product, as it softens, protects and strengthens the skin after harmful UV radiation.
Discover our lovely body oil and give your skin the love it deserves!
Share
View full details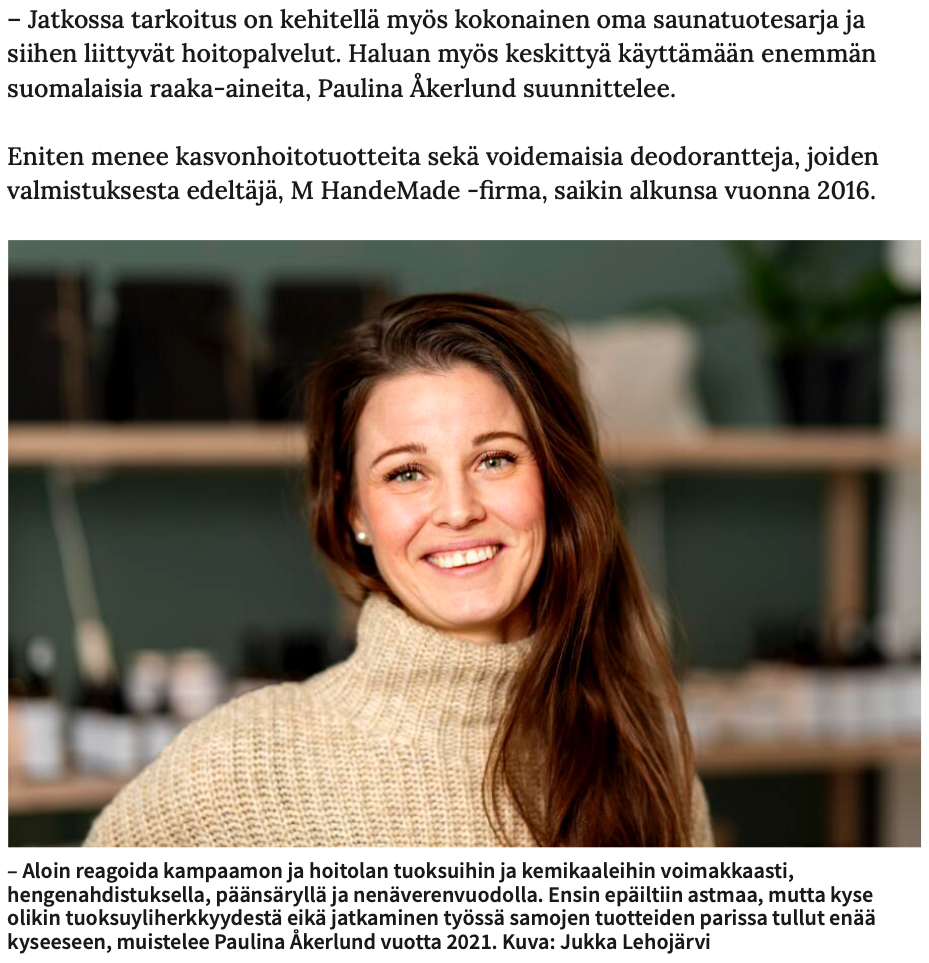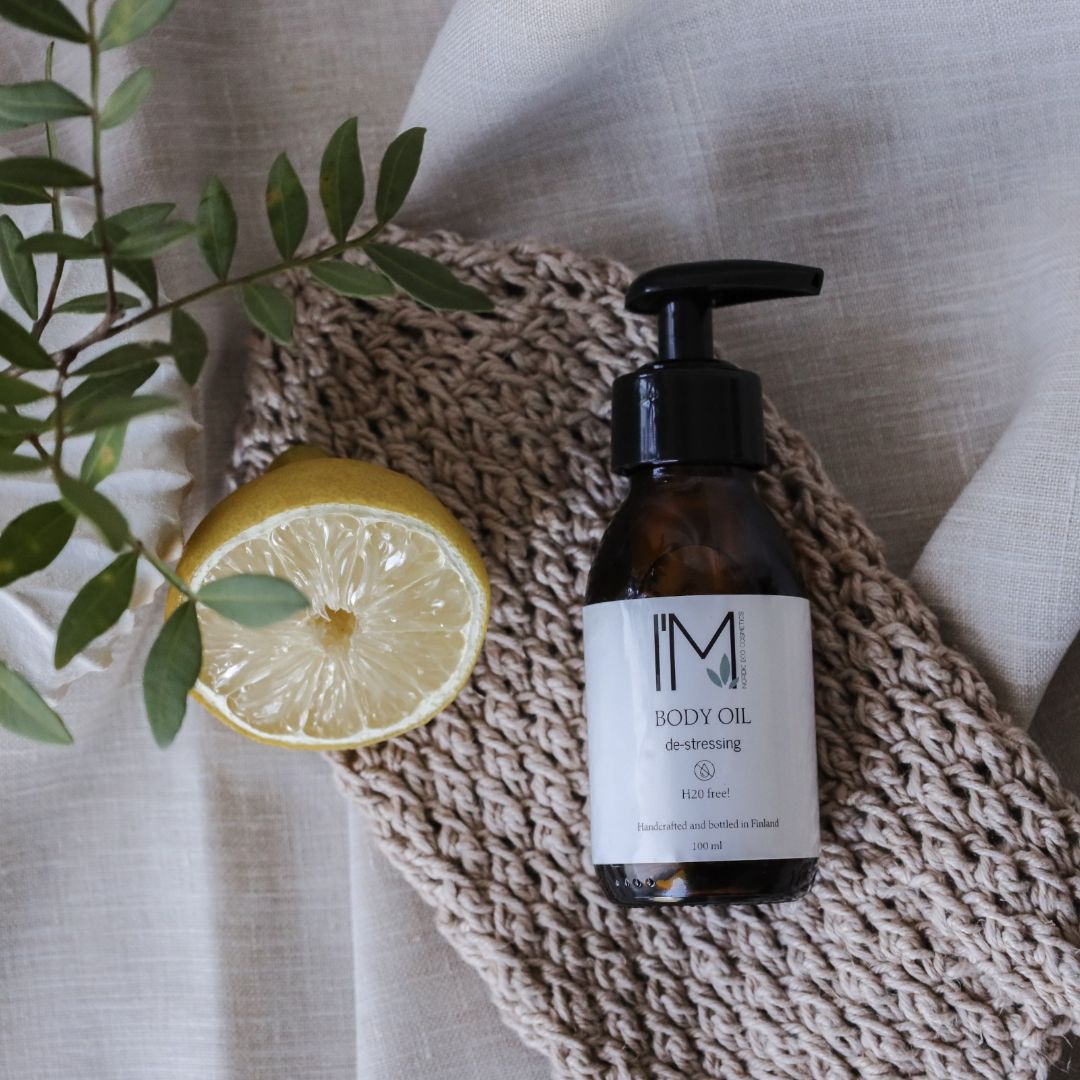 Use
Our de-stressing body oil is the perfect solution to give your skin the ultimate moisture boost while creating a soothing sensation. With a delightful blend of nourishing ingredients, this body oil is designed to deeply hydrate and soothe the skin.

To use our body oil as a moisturizing treatment and to promote relaxation, start by cleansing and drying your skin. Then you apply a few drops of the oil in the palm of your hand and warm it by rubbing your hands together. Then massage the oil with soft, circular movements all over the body or on the areas that need extra moisture and a soothing effect.

Enjoy the soothing scent and feel how the oil is absorbed into the skin, providing intense hydration and nourishment while providing a relaxing sensation. For best results, you can use our body oil after bathing or showering, when the skin is still slightly damp to capture and retain moisture.

Whether you want to create a relaxing moment for yourself after a long day or you just want to give your skin extra love and moisture, our de-stressing body oil is the perfect choice. Treat yourself to a soothing and hydrating treatment that will make both body and mind relax and feel good.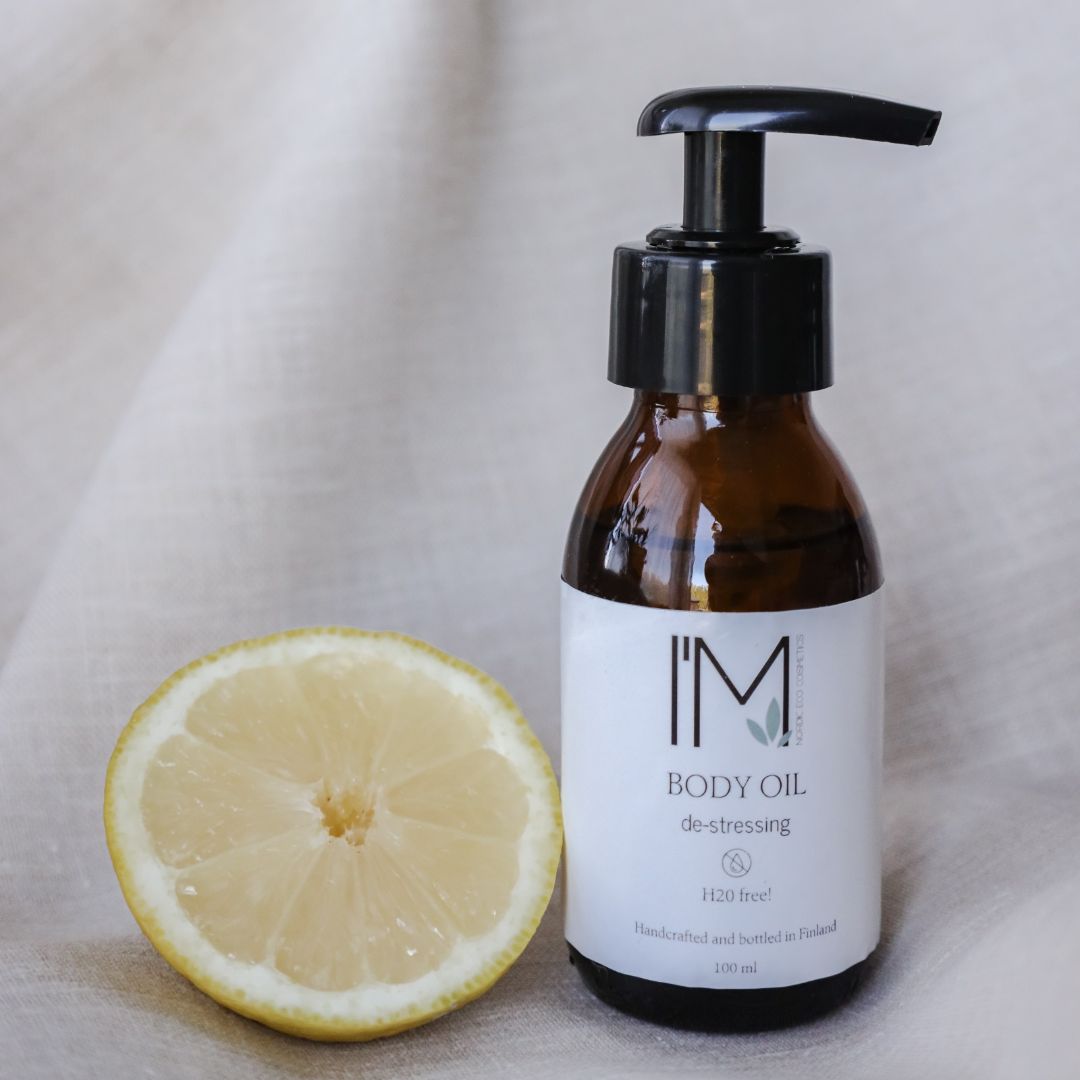 About the product
The product contains a fine composition of organic oils that give your skin what it deserves
sesame oil, is a good moisturizer and nice massage oil. Sesame oil is a semi-fatty oil that is absorbed fairly quickly by the skin and can be used on the face, body, cuticles and hair. Sesame oil is also said to have good anti-fungal properties and to be naturally antibacterial and can therefore be used with advantage in
jojoba oil, is actually a liquid wax and the one of the oils that is most similar to our skin's own tallow or sebum. It protects and binds moisture in the skin and gives the skin a velvety feeling. Jojoba oil balances sebum production and is therefore suitable for everything from dry to oily skin.
coconut oil, (also called coconut fat, coconut oil, coconut fat) has been used for many thousands of years in Asia for its health benefits. No spraying agents or artificial fertilizers are used in the cultivation. In addition to vitamins and minerals, the oil also contains the important fatty acid lauric acid. Lauric acid is converted to monolaurin on the skin and protects against bacteria.
cocoa butter, is soothing and protective for the skin - very good for dry, cracked and chapped skin. Helps retain moisture in the skin and has a softening effect.
Beeswax, protects against weather and wind, repels cold and water, retains heat and moisture. It also soothes irritated skin, which gets peace and quiet under the wax protection, softens dry and flaky skin. The beeswax also has antibiotic properties. Beeswax is not absorbed by the skin but settles on the surface with an oily and waxy feeling. It does not clog the pores like, for example, paraffin.
Essential oil Citronella, is said to be soothing and calming for the mind and therefore fits perfectly in a de-stressing body oil.
We have also added some organic rosemary extract and natural vitamin E to the product to give the product a longer shelf life.
The product contains beeswax.
Collapsible content
PEARL

INCI: Sesamum indicum seed oil* (Sesame oil), Simmondsia chin- ensis seed oil*, (Jojoba oil), Cocos nucifiera oil* (Coconut oil), Theobroma cacao seed butter* (Cocoa butter), Cera flava* (Beeswax), Rosmarinus officinalis leaf extract* (Rosemary leaf extract), Cymbopogon winterianus herb oil* (Citronella oil), Tocopherol (Vitamin E), citronellol**, farnesol**, geraniol**, limonene**, linalool**
*organic
**natural component of essential oils
100% Natural
All ingredients except thocopherol is cert. organic
Storage

Förvara gärna på en sval plats, under +25°C som är skyddad från direkt solljus.